Contact Us
Our chocolate shop is located in the Chicago arts district near the south loop.
1823 S. Halsted St.
Chicago, IL 60608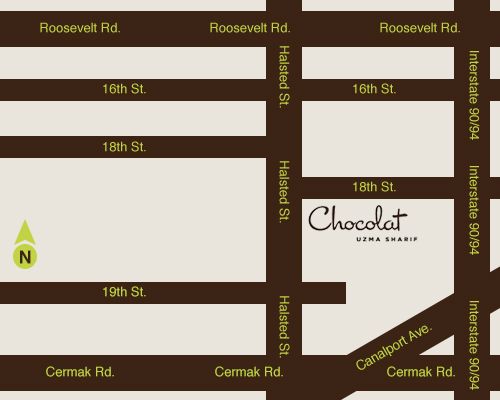 Store phone: 312-492-9866
Email: info@chocolatuzma.com

Hours of operation
Monday Open starting December 1st through December 25th 8:00 - 7:00am
Tuesday 8:00- 7:00
Wednesday 8:00- 7:00
Thursday 8:00-7:00
Friday 8:00-7:00
Saturday 9:00-6:00
Sunday 10:00-6:00
We will be closed December 25th.
We love to hear from our customers! Follow us to hear about our new products, promotions, contests, events, and more. If your inquiry is urgent, it's better to email us.
Facebook | Twitter | Instagram
Email: For all inquiries, please send us an email by filling out the form below.